Good Football News for Online Casinos!
Quelle: Wikimedia
For some of us, waiting from one weekend to the next is already too long between Premier League games. It's not just about football—it's about the rivalries, debating with friends, the excitement of going to watch the game, and being able to bet on your favorite sport. It is not difficult to imagine the relief that must have swept through the offices of the world's online casinos when the return was announced. Fans the world around are looking forward to the return this June 17. Here's what to expect.
Where the season left off
The Premier League is England's top football tournament, and one of the world's favorite tournaments overall. In fact, it was more viewers than any other sports league in the world. So when it came to a stop right in the middle of the action, fans and players alike were devastated.
The 2019-2020 tournament started back in August, with 20 of the UK's top teams scheduled to play over the next nine months or so until May. In a regular season, fans can count on games nearly every weekend, since each of the 20 teams faces off against each other teams in the league twice, with one home game and one away game.
But all of this was put to a stop on March 13, when the league decided to cut off the season because players were falling ill and the world was in crisis all over. Fans were left to wonder when, or even if, the action might restart. With millions of fans stuck sitting at home because of the crisis, we all had even more time to wonder when we'd once again be able to enjoy our favorite sports live and on television.
When the tournament was put on hold, Liverpool was holding the top spot in the rankings. With a 27-1-1 record and a total of 82 points, they were clear front runners for the title. Behind them was defending champion Manchester City, who in spite of playing quite well were still a ways behind Liverpool, with an 18-3-7 record and 57 points total.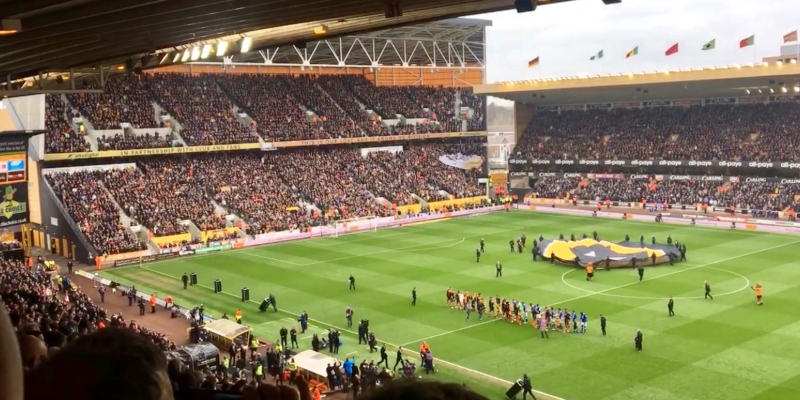 Quelle: Wikimedia
Looking forward to a restart
Starting the season back isn't as simple as picking up where things left off. A lot of planning and decision making has gone into the project, and there's been a bit of controversy as well.
The Premier League organizers began discussing how the tournament would be restarted in April, as things began to calm down in Europe. Players began training in groups again in mid-May, following safety recommendations to stay as healthy as possible as they worked. This meant training in small groups and limiting practice times, as well as practicing social distancing and testing when possible.
As things continued to improve, the League decided toward the end of May that they would start back on June 17, more than three months after games were paused. They still haven't worked out all the details, though most fans are happy just to know that the ball is rolling again. Even though everyone is excited, we know that things will certainly be different moving forward as the league takes increased precautions.
First of all, like most sports, there will be limitations on how many people will actually be able to attend the games as fans. Popular Premier League matchups can draw tens of thousands of fans (this year's highest attendance was over 73,000 at the Manchester United – Liverpool game in October). With concerns over social distancing, this simply isn't possible, so sports leagues around the world have had to consider different solutions. Though they'll play closed-door without a crowd at first, they may be able to begin slowly loosening restrictions if it is deemed safe.
It's also still up for discussion whether or not some games will need to be played in neutral venues. This would help to avoid travel and improve the safety of holding the games. However, most everyone agrees that playing neutral-venue games isn't favorable, so the organizers are trying to limit the number of games held outside of contenders' home and away venues.
Another concern has been voiced by players themselves, who think that the League is rushing things and should not restart the tournament so soon. Several have complained that the Premier League organizers made decisions based on financial pressures rather than thinking about the well-being of their players. A handful of players have even decided that they won't play this season out of precaution for themselves and their families.
The possibility that teams will have limited numbers of players could be an issue, particularly if players get sick or decide not to play out of health concerns. Part of the league's prevention protocols include frequent testing, meaning some players could be barred from competing. It's possible that there could be situations where a team's best players can't play, affecting their performance dramatically. But, as of now, long as they have 15 fit players—that is, four substitutes—the games will go on.
The final, and perhaps biggest, controversy has been around relegation. The Premier League is the top league in England, and teams have to earn their place in it. If they're among the lowest performers, they get relegated to the second-tier league, the EFL Championship. This year, teams in danger of being relegated have cautioned that the standard practices would be unfair, given the circumstances. This is particularly true if not all games could be played out, which would require an alternate solution to determine who stayed in the Premier league for 2020-2021 and who got bumped.
Good news for fans at home
Though many will be upset that they can't experience the excitement of going to live games, the broadcast situation has been improved a bit to make up for this. The League has been working with broadcasters to ensure that live streaming of the game is available to more people than usual, without requiring a paid television subscription. BBC Sport will air 4 games, and Pick will air 25.
British officials have also cautioned fans about the importance of watching at home, and not crowding around stadiums or other public places where they could endanger their health. Hopefully having increased access to free streaming at home will help protect fans.
Restarting other sports
Football isn't the only sport looking at restarting. Other pro sports are beginning to talk about kicking things off again as well. Football leagues in Germany and Spain are beginning to play again, and US sports leagues, like the NBA, have discussed tournament relaunches for this summer. In the world of gaming, the PokerStars Barcelona Championship has been canceled altogether, but fortunately players still have many opportunities to play at online tables.