Best Casino Films: Part 3
Source: annca on Pixabay
In some ways making a movie is a little bit like designing a casino. To make a succesful movie you have to pull out all the stops. The most memorable films of our time are those with the glitz and glamour of the big stars and amazing directors. The characters in these films are no different. The heroes of the most memorable Vegas casino films are always larger-than-life, just like Las Vegas itself. Making these bold creative decisions has given us memorable movies like Ocean's Eleven and The Hangover to entertain us. Let's explore what made these movies such unforgettable hits.
Ocean's Eleven
This 2001 Steven Soderbergh remake of the 1960 Rat Pack classic has become a classic in its own right. George Clooney plays Danny Ocean, a smooth casino hustler with a plan for the perfect casino heist. Ocean's master plan involves robbing three of Las Vegas' most major casinos simultaneously.  All he needs to pull his plan off is the perfect team, a team of eleven professional criminals.
The film follows Ocean as he is released from prison and begins putting together his crack team of professionals. Each member of the team brings a particular set of skills needed to pull the plan off like clockwork. But of course the best laid plans don't always run so smoothly. The team soon finds obstacles that force them to adapt their plan on the fly. The result is an exciting and twisting heist movie that doesn't let up til the final credits roll.
The titular team of eleven as well as the other supporting characters are made up of an amazing cast of characters. You can expect the likes of Brad Pitt, Matt Damon, Don Cheadle, Julia Roberts, Andy Garcia and the late Bernie Mac to name just a few.
Ocean's Eleven was a massive commercial and critical success. The film earned over $450 million dollars off its $85 million budget. It would go on to spawn two sequels and a spin off movie all of which were successful. Ocean's Eleven is an undeniable classic that set the standard for casino and heist movies for years to come.
The Hangover
As the saying goes "what happens in Vegas, stays in Vegas." This is essentially the premise of 2009's The Hangover directed by Todd Phillips.
The movie follows the story of three friends named Phil, Stu and Alan, played by Bradley Cooper, Ed Helms and Zach Galifanakis. After a crazy bachelor party in Vegas the friends awaken in a strange hotel suite with a live tiger and a mystery baby of unknown origin. With no memory of the night before and no sign of their friend Doug, the groom to be. Phil, Stu and Alan proceed to run around Las Vegas trying to find clues to piece together their wild night and find where their friend Doug has gone.
Along their trip the three friends bump into a whole cast of wacky characters from gangsters, to strippers to celebrities. The three grow closer together and learn some things about themselves and also each other as they go.
The Hangover is a wild and hilarious look behind the dark side of Las Vegas. It's widely regarded as an excellent Las Vegas comedy and even the release of two successful sequels, each more outrageous than the last. The film also stars Ken Jeong, Justin Bartha, Jeffrey Tambor and even Mike tyson as himself.
The Hangover is a hilarious must-see, but be warned,  it's not for the faint of heart. Interestingly, The Hangover still holds the record for the highest ever earnings for an R-rated film.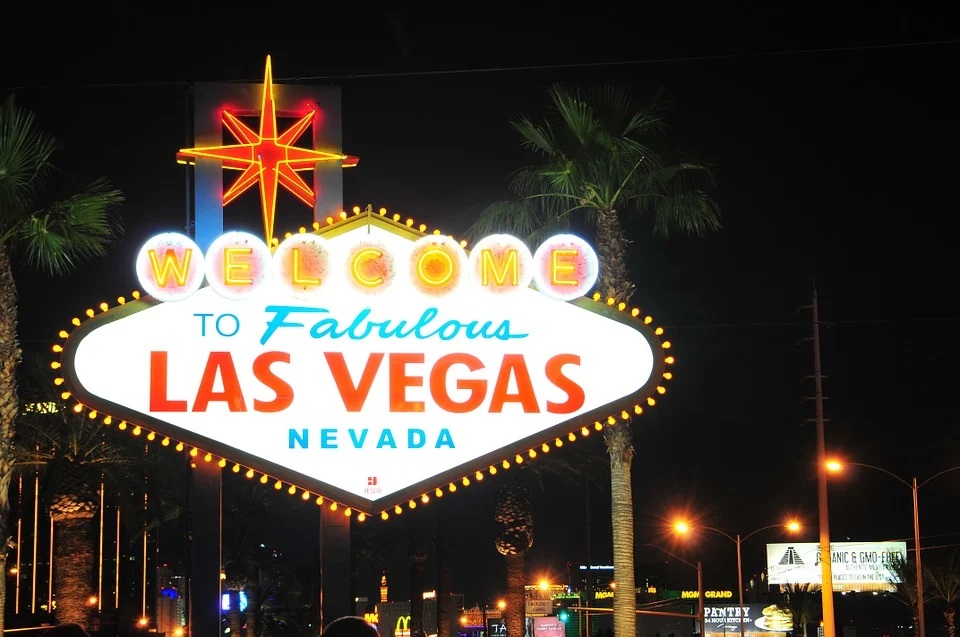 Source: tookapic on Pixabay
It's not only in Vegas
But movies are of course fictional. Many players might find that travelling to the real Las Vegas is slightly more difficult, or they might not even want to go at all. For those that would still like to gamble however, there are loads of online casino games like Blackjack, Roulette or even slots available to play at Royal Vegas Casino.