Hold'Em Poker 3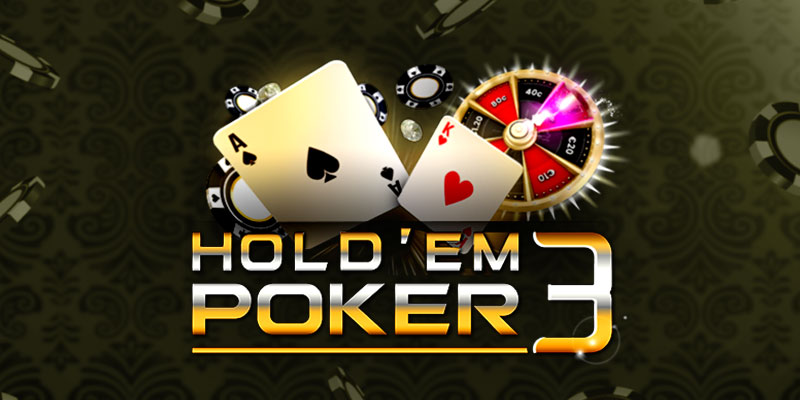 Classic poker, with epic prizes and new thrills? That's right, you've summed up Microgaming's online casino masterpiece: Hold'Em Poker 3! A fast-paced, 3-seater Sit & Go tournament game featuring a coveted jackpot prize, luxurious finishes and more from a highly accessible 0.20 minimum buy-in.
Designed to accommodate mobile casino players with Android and iOS devices, Hold'Em Poker 3 is just as enjoyable on smartphones and tablets as it is on desktop, complete with the high-quality graphics Microgaming is known for. With the freedom to play where and when you like, casino games like this make for optimal playing pleasure – boosted with optional promotions from Royal Vegas, if you're that way inclined.
Game Highlights
Classified as a no-limit hold'em variant, Hold'Em Poker 3 is, as the name suggests, the third release in Microgaming's Sit & Go tournament series. Following the same formula, meaning no re-buys or add-ons, players will be playing for a progressive jackpot prize pool!
Growing with every bet placed, the jackpot prize is won following a successful hand, split 50/30/20 for first, second and third place positions.
How are potential winnings determined? By the casino game's random prize pool wheel, which contains a segment for each of the payouts mentioned above. Wherever the wheel pointer lands indicates the value of the win and how it will be allocated amongst participating players.
Texas Hold'em 101
Before you start playing online and mobile casino games like Hold'Em Poker 3, you'll need to learn some basic Texas Hold'em tournament rules. You can apply these to any Hold'em Poker variant you try out at your favourite online or mobile casino – or in real life too!
Step 1: The round starts by each player receiving two cards, which appear face-down to opponents. The designated player makes the first bet. Depending on the cards the other players have, they'll choose to either See (match) or Raise (increase) the first player's bet amount.
This continues until no more Raised bets occur, triggering the Flop. The flop is when three more cards are dealt, face up. This is then combined with each player's existing cards to form their hand. Again, players are given the chance to See or Raise their bets.
Once concluded, it's time for the Turn: Another face-up card. Then, it's time for the River – the final face-up card and last chance to See or Raise bets. Once done, all players reveal their hidden cards. When combined with the other face-up ones, the player with the leading hand wins.
Hold'Em Poker 3 Play
The rules for Hold'Em Poker 3 are based on the same ones found in your typical Texas Hold'em game. The difference, then? Two unique features: Limited seated and a payout wheel with numerous prizes, including a growing progressive jackpot.
For the opportunity to participate in the Sit & Go tournament, where you'll go up against two other players, a 0.20 buy-in is required. This exclusive seating arrangement, which hosts a maximum of 3 players at a time, streamlines potential payouts. When triggered, either one player grabs the entire amount, or it's split amongst all three.
Payouts can either be fixed, as showcased on most segments of the wheel, or can consist of a jackpot amount when the wheel pointer lands on the jackpot segment.
Once paid out, the jackpot prize resets to 1000 once more.
A Casino Staple
Microgaming is known internationally, famous for creating high quality casino games for the online and mobile casino audience. While the bulk of their creations are slots, they also produce a premium range of table games like video poker, blackjack, craps, roulette, baccarat and sic bo. Some might know them for their popular Mega Moolah series of progressive jackpot games.
Over the years, Microgaming has partnered with an incredible number of third-party providers. This has resulted in an amazing assortment of graphical styles and game mechanics, all to the benefit of online and mobile casino players.
What's more, Microgaming releases at least 3 new titles a month, ensuring for an ever-fresh array of quality content for iGaming fans to enjoy.
Online Poker At Royal Vegas
Ready to be enjoyed by online casino players at Royal Vegas on mobile or desktop, Hold'Em Poker 3 joins a wide range of Android and iOS-friendly greats, including Microgaming's popular Hold'Em Poker series. Once logged in, a simple click or tap on the Table Games tab will populate our offerings, or you can find and launch Hold'Em Poker 3 using our handy search bar.